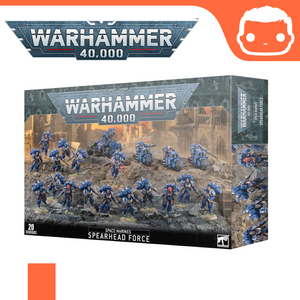 The Space Marines are the Emperor's will made manifest. They are his Angels of Death, and for ten thousand years, the Space Marine Chapters have been Humanity's shield and sword in the face of the horrors that beset it. These genetically enhanced super-soldiers are among the greatest warriors to have ever existed, and their fast-moving spearhead forces employ high-speed tactics to strike like an armoured thunderbolt.

Launch a swift and unstoppable assault with the Adeptus Astartes warriors in this boxed set. This spearhead force can rapidly deliver punishing firepower from an Invader ATV, whilst Outriders outflank and outmanoeuvre your foes, hemming them in before you unleash the fury of your Jump Pack Intercessors, led by a fearsome Captain with Jump Pack.

The box includes 20 plastic miniatures for use in games of Warhammer 40,000, and will also save you money compared to buying the contents separately. It's an ideal way to start a Space Marines army, or easily add to an existing collection.

This set includes the following multipart plastic models:

– 1x Captain with Jump Pack
– 1x Invader ATV
– 3x Outriders
– 15x Jump Pack Intercessors

This box also contains transfer sheets for you to customise your miniatures. There are 4x Space Marine Infantry Transfer Sheets which contain 758 high-quality waterslide transfers each, as well as 1x Space Marine Transfer Sheet containing a further 96 transfers.

All models are supplied with their appropriate bases.

These miniatures are supplied unpainted and require assembly – we recommend using Citadel Plastic Glue and Citadel Colour paints.

The miniatures in this set are also available separately.