our Latest Products added to our store!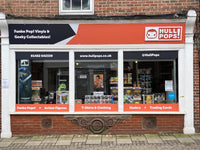 Visit Our Shop!
We're not just an online store! We have a high street shop as well!
Based in Hessle, East Yorkshire - Come visit us! Everything you see on our website can also be found in store!
Hull Pops, Prestongate, Hessle, HU13 0BZ
Google Maps
Last Chance! Only one left! dont miss out!
Went above and beyond to help me purchase the product I was looking for. Thank you

Fiona S.
Friendly little shopped, had the paint I wanted.

Stephen H.
Ordered online, really easy and simple to do. Had my email confirmation really quickly and called in the following weekend to collect. My order was in good condition, clearly marked up and took seconds to find. All round really good service and will look to use them again

Martin C.
About Us!
Hull Pops Ltd was setup in September 2017 after years of receiving damaged collectables the owners decided it was time to create a business that cared about the collectors, making sure the items they ordered came packed and in the condition expected for collectables.