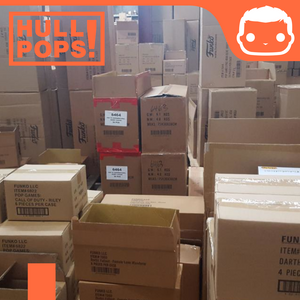 We get a lot of requests from people that want to buy the empty Funko cardboard boxes from us (The ones the actual Pops are delivered in that normally hold 6 pops!) - If we have any in we always sell these at £1 per box with free shipping if you buy over 5 boxes. To save us time we have decided to add them as a product!
To claim the free shipping deal, add 5 or move boxes to your cart, select standard shipping as normal but use the code "FUNKOBOX" at checkout to discount £4.99 (Cost of standard shipping)
Important: These boxes are random boxes, we only hold a few while the rest are sent to be recycled.
****** DO NOT ORDER THESE WITH ANY OTHER ITEMS ON OUR WEBSITE OTHERWISE YOUR ORDER WILL BE CANCELLED! ******