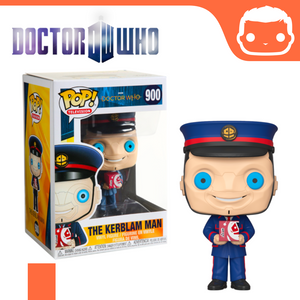 Celebrate the first ever female doctor in BBC's iconic series Doctor Who, with Funko's new range of Season 11 Doctor Who Pop! Vinyl Figures!
 
Portrayed by Jodie Whittaker, the Thirteenth Doctor debuted in October 2018. She's a new incarnation of the Doctor, an alien Time Lord who travels through time and space in her TARDIS, which appears to be a British police box on the outside.
 
This new wave features not only the Doctor, but also other characters a few new faces to  Funko's Doctor Who range. We've got Kerblam! Man, a member of a robotic workforce known as "TeamMates" in a galaxy-wide online shopping service known as Kerblam! There's also a Reconnaissance scouts, which were specialised Daleks sent out from Skaro to scout out new planets in preparation for invasion. Oh and finally we have the Thirteenth Doctor wearing her goggles as she did in the Season 11 premiere.
 
So grab your Sonic Screwdriver and the new Doctor Who Pop! Vinyl Figures to your Funko collection today!