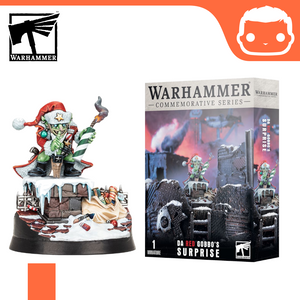 Celebrate the season of giving with this very generous Red Gobbo, ready to drop some "presents" on his favourite Imperial citizens. Designed as a miniature diorama, fans of all stripes will enjoy this highly collectable Warhammer Commemorative Series model, only available for the 2023 holiday season.

This multipart plastic kit builds Da Red Gobbo's Surprise, depicting your favourite mischievous grot perched atop a scenic base. His bag of goodies is open, and some of his gifts have slipped out – thankfully, more welcome than the big bombshell he's about to drop. Don't ruin his surprise!

This kit comprises 9 plastic components, and a Citadel 40mm Round Base.

This miniature is supplied unpainted and requires assembly – we recommend using Citadel Plastic Glue and Citadel Colour paints.

This miniature will only be available to order until 8am GMT on Monday 8th January 2024, and may take up to 180 days to dispatch.