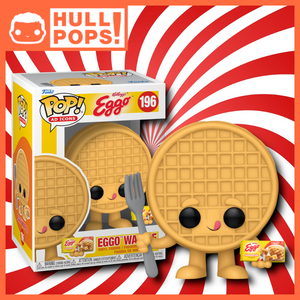 Round out your collection with the Pop! Eggo™ Waffle! With a fork and box of Eggo™ Waffles in hand, this sweet treat is ready to join you for your morning routine! Make this "waffle-y" cute friend the next tasteful addition to your Ad Icons set.

20% Non-Refundable Deposit Only! - Full cost of this item is: £11.00 (Plus Postage) - Due In To Stock January 2024 - Pre-Order Now!
Important Pre-Order Information:
1. 20% Non-Refundable Deposit is taken upon order!
2. Delivery dates are set by our suppliers and are subject to change without notice. If they change we will update our website with the new dates. Please keep an eye on it!
3. Customers can cancel pre-orders at any time. Deposit is Non-Refundable! Please see our help desk Here
4. In stock items will be shipped within 48 hours.
5. Pre-Orders are exempt from any offers or deals.
6. Once the item is in stock you will be emailed an invoice to pay the remaining balance plus postage.
7. Customer has 5 working days to pay the invoice before the item is taken off reserve and put back into stock. Deposit will be lost.
8. If you have more pre-orders and would like to wait and combine postage this is ok, please contact us once you receive an invoice to let us know..
9. We delivery to UK and Ireland..
For More Information On Pre-Orders Please See Our Help Centre Here